Curti for the Environment.
Eco-sustainability for the metal industry
Curti demonstrates that it is possible to be environmentally friendly in the metal industry. We must rework the production process, we must invest in technologies looking towards the future. It is necessary to be pioneers of new concepts within the industry.
At Curti, environmental protection is a top priority, indeed, it is a choice that translates into:
Waste Reduction

the entire production cycle through its organization and efficient technologies in use, cuts the consumption of raw materials. The laser, above all, has the advantage of making precise cuts by optimizing the use of the material and also obtaining pieces from pieces that are semi-finished.

Recyclable materials

the recovery of pieces from processed components and tubes puts useful raw material back into the production process.

Reduction of energy requirements

the use of the latest generation of efficient technologies, throughout the entire production process, significantly cuts energy consumption. It is therefore, better produced and without waste.
The Curti Lamiere photovoltaic system.
Project co-financed by the European Regional Development Fund.
POR FESR 2014/2020 - AXIS 4 - PROMOTION OF THE LOW CARBON ECONOMY IN ITALY AND WITHIN THE PRODUCTION SYSTEM - ACTION 4.2.1
"Incentives aimed at reducing energy consumption and greenhouse gas emissions, including the installation of renewable energy production plants".
116,000 kWh of clean energy
The plant is equipped with an important photovoltaic system for the production of electricity which is used in our production.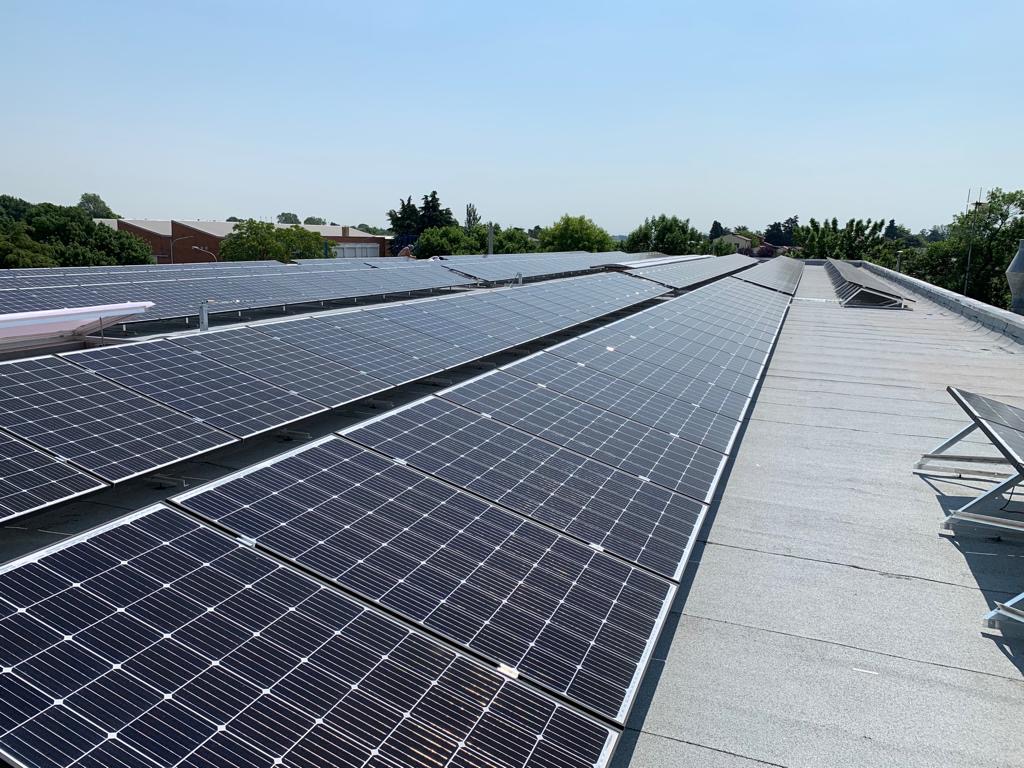 The project

The project encompasses the construction of a photovoltaic system with a power of 100 KWp which includes a monitoring system, composed of n. 324 photovoltaic modules in polycrystalline silicon with a nominal power of 305 W. The surface area the panels occupy is equal to 550 square metres. The project also includes interventions throug the compressed air system in order to reduce energy consumption.

Objectives

Self reduced consumption raken from the network 100.102 kWh;
Reduction of the polluting emissions released into the atmosphere (Annual - Equivalent of thermoelectric production):

Sulphur dioxide(SO(SO2) 81,37 kg.
Nitrous oxides (NOx) 102,44 kg.
Dust 3,63 kg.
Carbon dioxide (CO2) 60,56 t.

Interventions on the compressed air system in order to reduce energy consumption

Results

The intervention has made it possible to annually produce electricity from renewable sources equal to 116,000 kWh and a reduction in energy consumption of 47,000 kWh, equivelent to the intervention carried out on the compressed air system.